Add to wishlist
Added to wishlist
Removed from wishlist
0
Add to compare
Welcome to Lakraj Heritage where the energy of the Indian Ocean coupled with the panoramic view from our luxury boutique hotel…
Rooms and Suites at LakRaj Heritage
Lakraj Heritage is famed for its ingenious location that gives it a distinct flavor among the beach hotels in Matara and Mirissa. The brainchild behind this luxurious boutique hotel in Polhena is Lakshan Abeynayake who is a SriLankan born actor, now residing in France.
Rooms
Choose from 12 exclusive guest rooms that come equipped with contemporary conveniences to warrant a star class boutique experience. Each boudoir is designed with a touch of class that is unique to each abode with 11 rooms presenting astounding views of the bordering Ocean from this exclusive boutique hotel in Polhena.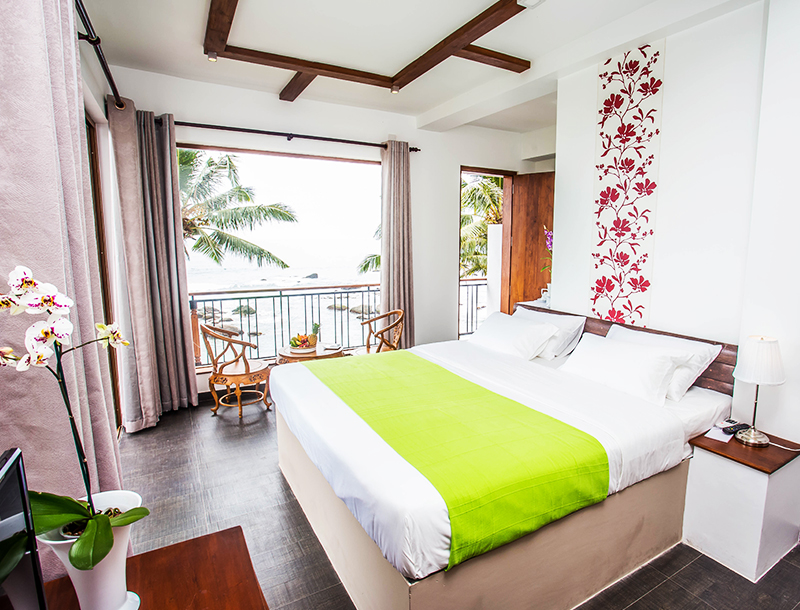 Interiors
Elegant interiors alongside cement coloured flooring and seductive aesthetic tones greet you into the plush bedrooms that are elegantly laid out to create a serene & earthy atmosphere. Be amazed by the precision planning incorporated into each living abode, as you are welcomed by clear glass in place of walls and a custom built 'Sun-Bed Ledge' in place of chairs on the open terrace; thus affording endless opportunities to soak in the view and energy of the magnificent Ocean.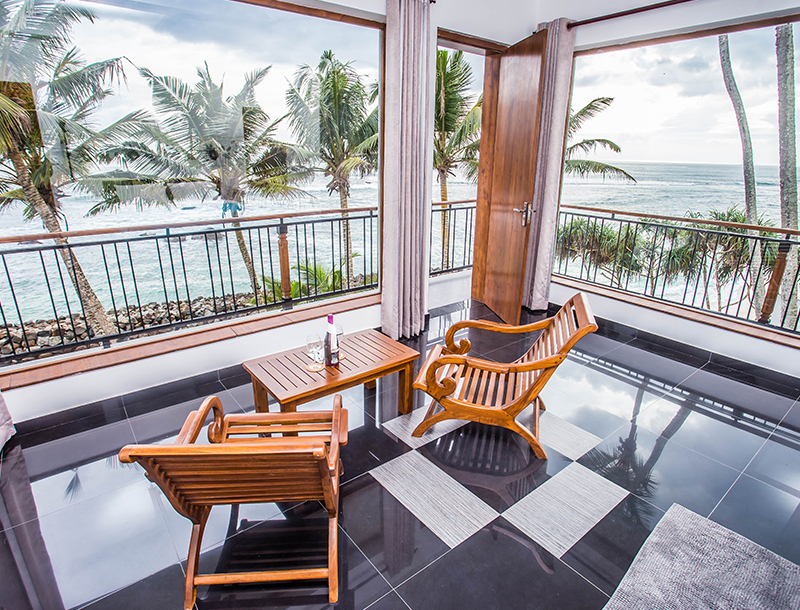 Luxury
The king sized luxurious bed also stands testament to the care rendered in enabling each living abode to radiate the natural ambiance that captures the very ethos of the hotel. Henceforth the cement base on which lays the mattress is insulated with saw dust and rock stones, to act as a natural coolant. This unique mechanism thus ensures that upon getting cooled down for the air conditioner, the cement base would thereafter emit its cool temperament onto the caressing mattress. The result is quite simply that even without the aid of the air conditioner, the luxurious bed remains at an evenly cool temperature throughout the day.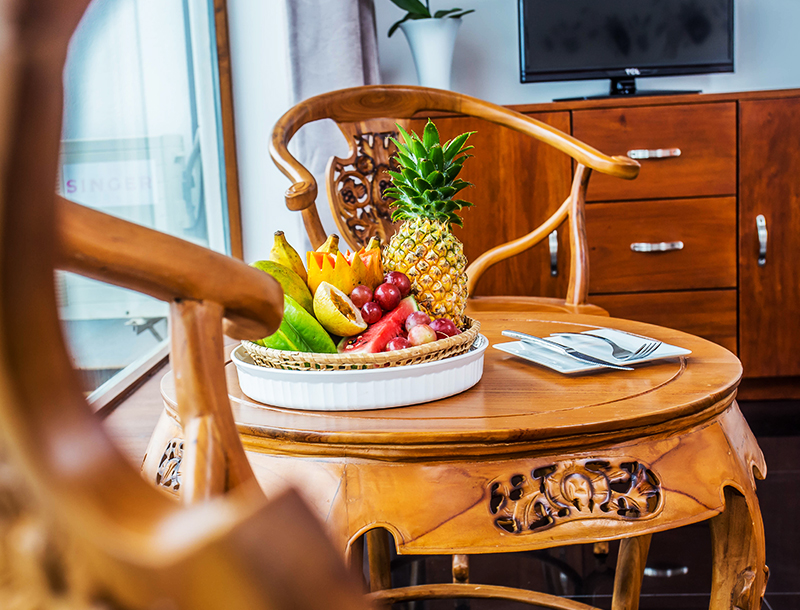 Services & Facilities at LakRaj Heritage
Services
The hotel offers a host of indoor and outdoor services to indulge in throughout the day. Start from a dip in the impressive natural Seawater pool formed by the unpolluted Indian Ocean along with its unique filtration system that ensures hazardous marine life such as jelly fish do not enter the pool. Take a moment to enjoy a cocktail as you lounge along the precipice of the cement steps that lead to the pool itself or sit back and soak in the evening Sun as you savour a cup of pure Ceylon Tea, on the roof top terrace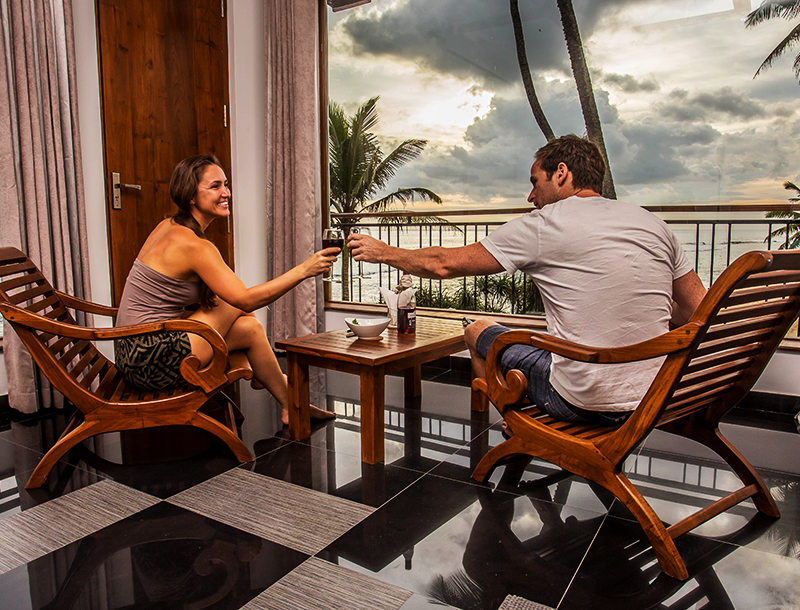 facilities
Serving you round the clock is the authentic fusion restaurant that promises a global culinary experience to its guests. For those looking to savour the best of Sri Lankan cuisine, relish the tantalizing array of delightful sea food that is on offer along with local specialties that can be made available on request. Our chefs will also dish out a distinctive French cuisine with its complex tastes and flavours unveiled through the use of fresh ingredients that bring our signature dishes to life.
With no imposing schedules and restrictive mealtimes to hamper your agenda, you get to decide how, when and where you dine. Be it a warm breakfast platter served on your private balcony or a romantic rendezvous along the natural pool's rock boulder itself; signature dining is yours to avail, as you come aboard this luxury hotel in Matara.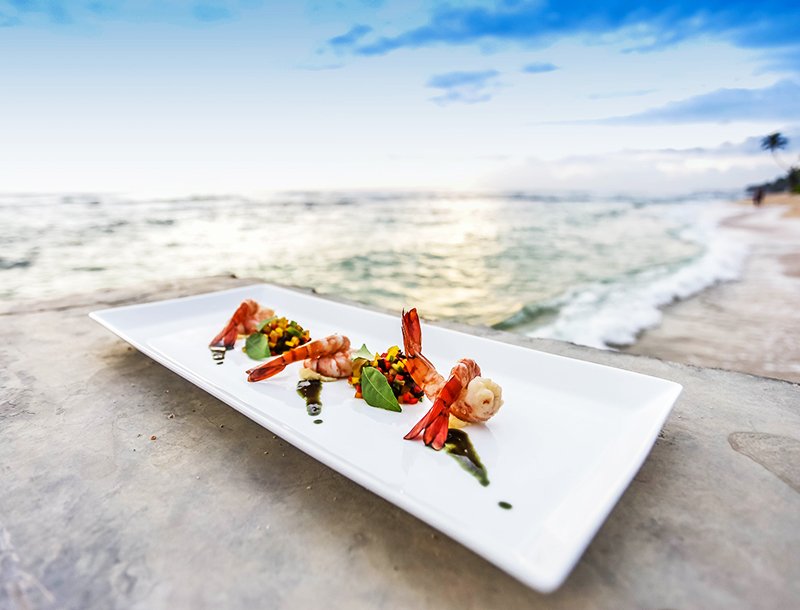 Vendor Information
Store Name:

Lakraj Heritage

Vendor:

Lakraj Heritage
Address: No 133, Beach Road
Polhena Beach
Mirissa
81000
No ratings found yet!
Minimum Stay Night at Lakraj Heritage
Stay for 2 nights at Lakraj Heritage and get further 20% OFF on 2nd night from the "THE REAL DEAL OFFER"
The Real Deal Offer
Special limited time offer to re-create memories once again at LakRaj Heritage.
The perfect time to catch up with your friends, family and for the Corporate members after the pandemic.
Report Abuse
Add to wishlist
Added to wishlist
Removed from wishlist
0
Add to compare